The Island of Bali is a unique Hindu paradise that offers a delicate cultural and artistic exchange, beautiful landscapes, incredibly delicious gastronomy and much more, for what has been cataloged as an unforgettable destination for those who seek a different kind of tourism, adventures and those who wish to experience new customs. In addition, this province can become a dreamy place for any kind of nomad as they perform their remote work on a laptop.

Currently, this jewel of Indonesia is one of the most famous tourist attractions in the world, so if you plan to travel and get to know this Oasis of the Gods, it is very important that you inform yourself about some aspects before packing your bags.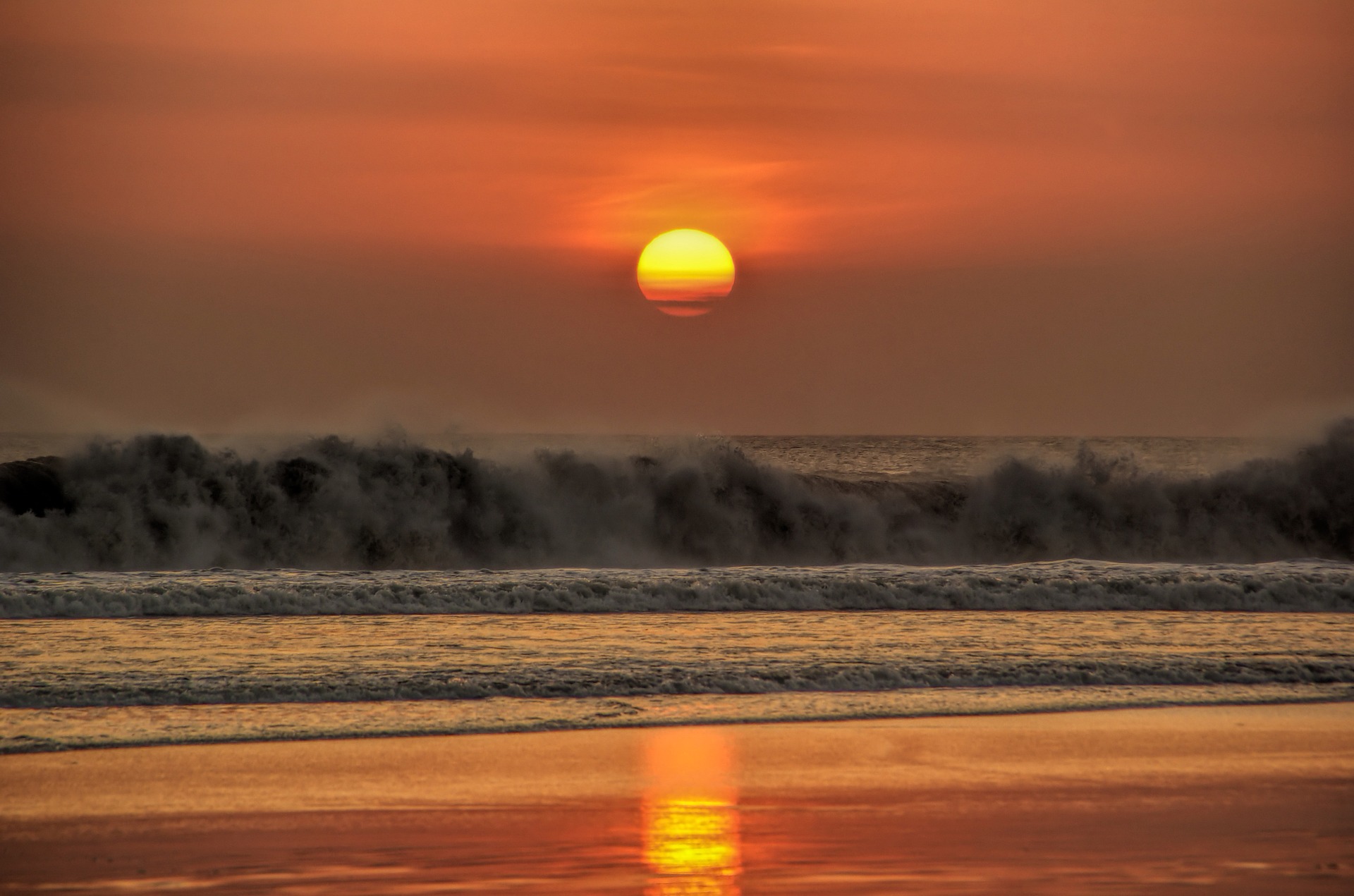 Cue the selfie, motivational quote, a dozen hashtags and the comment from your aunt...
The Island of Bali has an extension of 5,636 km2. According to Balinese legends, this entirety of this great territory is a huge turtle shell that rests on the Indian Ocean, a story repeated by many within the three and a half million of people (approximately) that inhabit this island. Bali also has a tropical monsoon climate, consisting of a rainy season and a dry one, with temperatures that range between 20º and 33º C throughout the year.
Imagine the scene, working in this beautiful place without established hours and enjoying the wonders that Bali has for you, an excellent way to fully complement your personal life with your work life thanks to new technologies and the Internet. This destination not only offers the chance to head out to spectacular rice fields and natural temples or volcanic hillsides that will surely give you photographic scenarios, but there are also a lot of tourist resorts located on the beautiful white sandy beaches of the south and five-star hotels for a good price.
So, to take advantage of your visit to the island of Bali, with the aim of achieving the most intimate and cozy experiences available to any Digital Nomad, I recommend you read this guide in which you will find everything you need to know to enjoy this trip to the fullest.
Where to sleep in Bali?
Choosing the right place to sleep in Bali will depend on what you are seeking to experience, and whether you're going as a tourist or as a freelancer.
To make a decision about your stay, we can divide the island into two large areas. The southern part of the island, that area that has more tourist development and has the vast majority of the famous beaches of Bali; and the northern area where you can enjoy quieter places and activities.
1.
Kuta




The tourist area of the island par excellence, in this region you will find surfers at every corner, as well as many places where different disciplines related to water sports are practiced. Kuta is also the most popular area among young people and those who wish to celebrate all day, given that this place is characterized by its festive atmosphere that remains active during all 24 hours, 7 a week.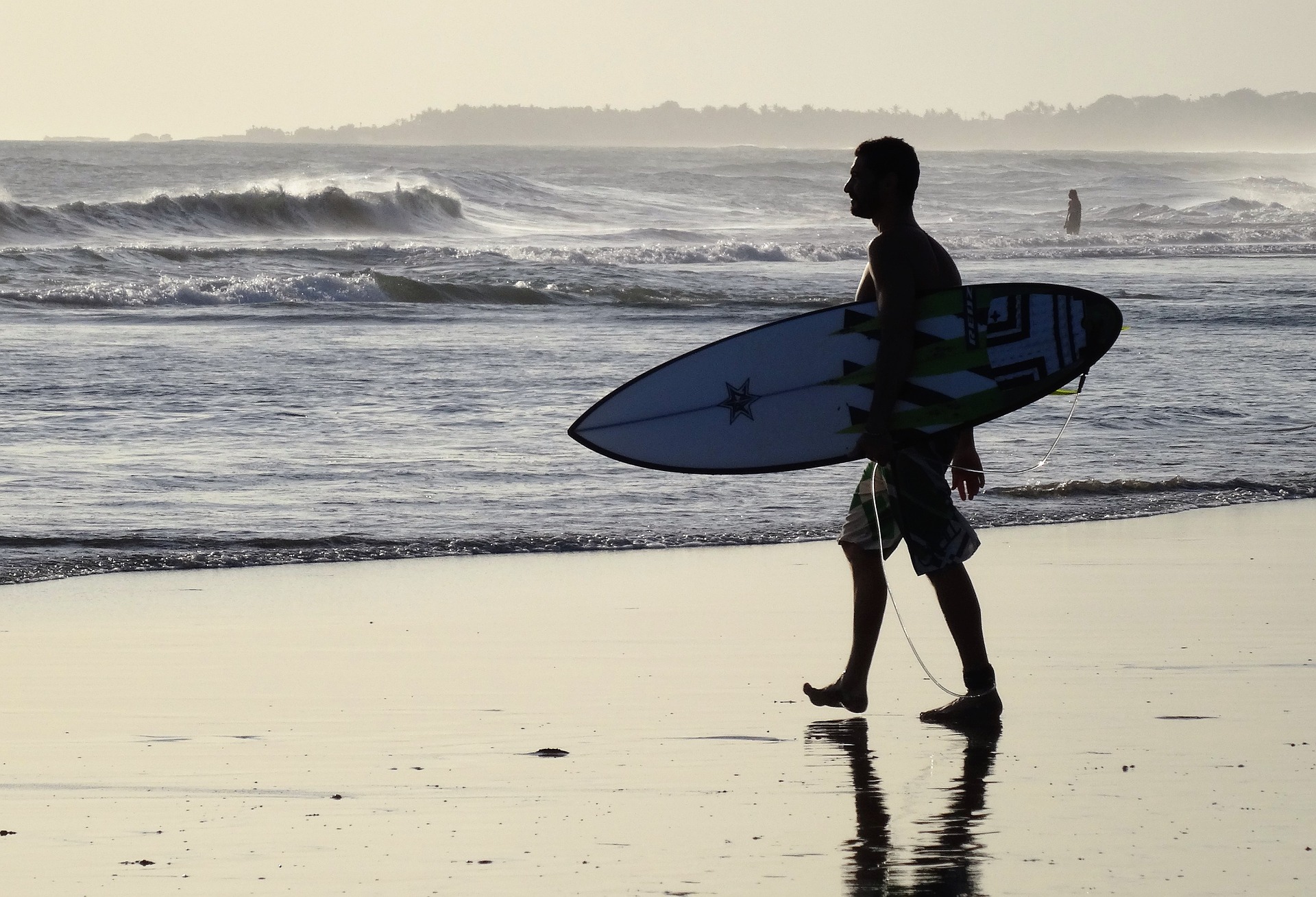 90% of Nomads in Kuta love surfing. The other 10% had their headphones on when we asked them.
During the day you can sunbathe while doing some remote work and at the same time enjoy the giant waves on the beach, go to the largest water park in Southeast Asia or get lost in an endless number of shops, shopping centers and outlets of major brands. Once the enviable sunset that Kuta offers has passed and you're enjoying the Balinese night, you can go dancing in one of the many nightclubs to be found, the hard part is choosing which place to do it.

Kuta is only 4 km away from the airport, although traffic can take 20 minutes to reach it. Nighttime noise can be an inconvenience when sleeping or working in the area if the lodging is very central. Traffic is also a problem because it is very heavy, which could interfere with your freelancer activities. As mentioned above, the beaches in these areas are for surfers because they are characterized by their large waves, therefore, if what you want is to enjoy a beach like a simple bather then this is not the best place to do it.
Recommended accommodation in Kuta

2.
Ubud


Ubud is a small village located in the inland hills, an hour's drive from Kuta, also known as the cultural and artistic center of Bali. It is surrounded by a beautiful natural places between mountains and jungle environments. It is highly visited by tourists with the intention of getting to know the rice fields and its main tourist attractions, including its temples, museums and galleries.

The center of Ubud, although based on meditation, traditional arts and culture, is also animated with restaurants and small stores with super-cheap prices. In addition, there are also a lot of recreational activities such as cooking courses and Yoga retreats which you will not be able to resist.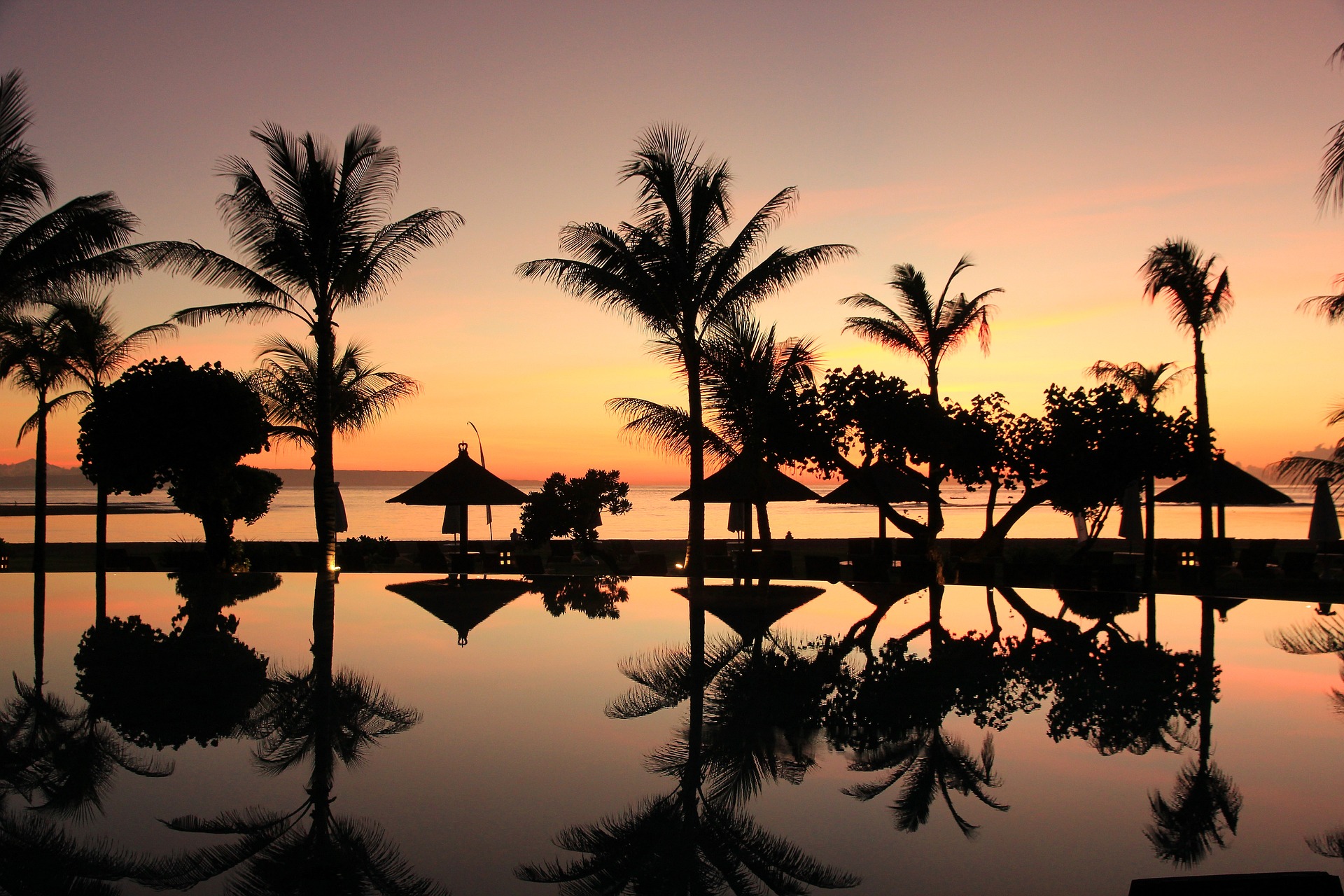 In Ubud, you can find many accommodation offers that range from the simplest and cheapest to the most elegant and luxurious in the area, however, in both cases they're a real space of tranquility and serenity, ideal for those Digital Nomads that require maximum concentration to make their ideas flow.
Recommended Accommodation in Ubud
3.
Seminyak and Legian


These two suburban areas are much more refined than the previous ones and are located north of Kuta. There are a lot of new hotels with luxury options around, therefore, if you want to be close to the hectic movement of Bali, but at the same time enjoy a more elegant accommodation, these will be the areas that best suit your criteria.

Here you will find an extensive variety of restaurants, shops, boutiques, coffee shops, etc., but with a more sophisticated air than those of Kuta (and therefore, more expensive). It is then the ideal option if what you are looking for is an atmosphere with a festive mood, but a little calmer (compared to the center of Kuta) and with the same tone of fun as other areas, but this time experiencing it from a more elegant point of view.




Recommended Accommodation in Seminyak and Legian
4.
Canggu




An area located north of Seminyak. Previously, Canggu was a population that combined the cultivation of rice with a surfer environment. Nowadays, although its development has been slower than other nearby places, a trend of traditional tourism made up of restaurants, cafés and trendy venues has grown exponentially, which has also caused the spread of tourist hotels and villas around it.

You can enjoy a calm, beach and cool environment, especially for surfers and those who want to enjoy comfort but without great pretensions. A Digital Nomad can peacefully exercise their functions in an area like this and fully pay for their stay in the place without breaking the bank.




Recommended Accommodation in Canggu
5.
Uluwatu




Located on the west coast of the Bukit peninsula in the south of the island, Uluwatu is a really extraordinary and very steep area, with cliffs and some of the best beaches for swimming and relaxing or for practicing skimboarding or other water sports. Among the best known are Balangan Beach, Dreamland Beach, Padang-Padang, or Bingin.

However, if you do not like the beach, it is not recommended that you stay in this area - because in addition to the beach environment there is not much else you can do. There are some bars, restaurants, spas and cafes but not really much more. Now, if you do not have much money for your stay, here you can find something that fits your expenses, although due to the popularity of the areas adjacent to Uluwatu, you will also get higher-end places that are quite expensive.




Recommended Accommodation in Uluwatu
6.
Nusa Dua and Jimbaran




The most luxurious options on the island, here you will find the great resorts that evoke the hotels and beaches of Indonesia. These luxurious and extended establishments will allow you to rest and enjoy all the attractions of its facilities, unlimited food and drinks (as you should expect at a resort) and also, there are different tours offered to nearby towns or tourist sites (although this is not normally included in lodging expenses).




Recommended Accommodation in Nusa Dua and Jimbaran

7.
Sanur




Located on the coast in front of Kuta, Suta is ideal to enjoy the local culture and beaches without much of a crowd. It is a quiet area with a huge spiritual tradition where you can find accommodation of all categories as well as several restaurants and shops. However, although it offers similar activities to other areas, there are a couple of places that definitely make a difference. The first is the Garden of Orchids where you can enjoy a pleasant walk through beautiful landscapes and get to know more about these famous plants as well as taste different exotic fruits. The other wonderful site is the Turtle Sanctuary where you can see these magnificent animals for free, but you can leave a small collaboration if you want to.




Recommended Accommodation in Sanur
What and where to eat in Bali?
Indonesia has one of the most varied and extensive cuisines worldwide, so when trying some of these foods for the first time you will possibly feel that you have eaten them before. Its cuisine is constituted by the fusion of different gastronomic styles and the integration of different spices which give each of its recipes a special and unique touch.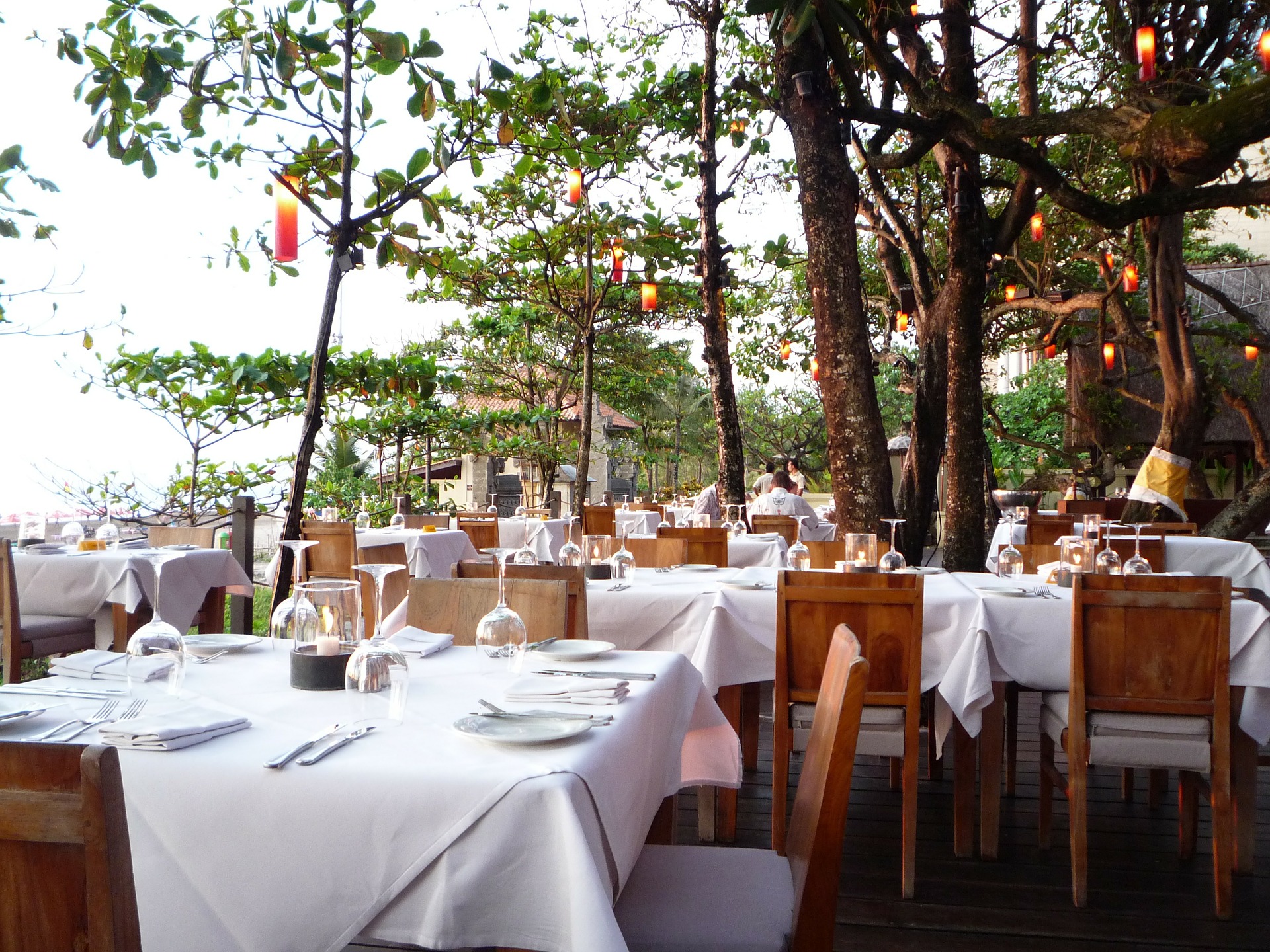 "If this place is as expensive as it looks, I'll just want a glass of your best water, fine sir."
On the island you can eat at a good price and enjoy yourself with very tasty meals; it is a matter of choosing correctly what you are willing to try, and depending on that you can choose from simple restaurants known as Warung, to those more sophisticated and luxurious which specialize in one particular element.
Warung Dandelion
A restaurant located in Canggu that serves local food. It offers all kinds of services and harbors an excellent reputation. It is very economical and provides culinary delicacies, such as the vegan specialties and spicy dishes. Be wary, it can get very full, so it may be a good idea to book in advance.
Warung Nia
A local food restaurant in Seminyak. Its cuisine is mainly Indonesian and its specialty is barbecued meats. We recommend you try the Nasi Campur dish and the Beef Sandwich. Your mouth will water when you taste its delights. It is open from 9:00 a.m. to 11:00 p.m. and its prices range from USD $2 - USD $10.
Moksa Plant & Permaculture Garden

This restaurant in Ubud is characterized by its freedom and freshness, and aims to explore the five senses through food. The focus in the design of its premises are on harmony with nature. Its cuisine is based on raw and vegetarian dishes, and most of its products are handmade and organic. The food and service are excellent and their prices vary between USD $5 - USD $9.
The Café
This tasty restaurant offers a buffet-style menu. Located in Nusa Dua, this place serves dishes from almost every style of cuisine in the world: Chinese, Indonesian, Halal, Asian, European, Indian, Japanese, Sushi and International. Ideal for large groups. Their prices range between USD $5 - USD $20.
Un's Restaurant
This is an establishment located in Kuta that only serves dinner. Its cuisine has a wide range of styles and also offers vegetarian and celiac menus. The quality-price ratio of Un's is unbeatable.
Kayu Manis
This is a Sanur restaurant that serves typical Asian dishes but with a European touch; it only opens at night to serve dinners. It is important to note that this place does not serve any type of alcoholic drinks.
Cuca
An innovative restaurant located in Jimbaran, and without a doubt, an important reference in the area. Cuca enjoys spectacular gardens that make dinner an even more pleasant moment. Their dishes are a fusion of Indonesian and European cuisine and their mojitos are quite famous. Their prices are between USD $15 and $45.
Bridges Bali
Bridges Bali is a restaurant in Ubud that has a specialty that is hard to find in Bali: a wine shop. You can choose a la carte or choose from the a menu, the choice is yours. We recommend you order the typical Indonesian Rijsttafel. There are also other options for vegetarians and people with diabetes and celiac problems. The surroundings of this restaurant are very beautiful and their prices vary between USD $8 - USD $40.
The typical food of the Island of Bali is a graphic representation of the culture of the area; it is strongly influenced by Hindu roots and is a mix of techniques and culinary trends from around the world, especially from Malaysia, China, India and Europe.

Although you can find a wide variety of ingredients, the fundamental basis of Bali's diet is rice, without forgetting pasta, seafood, vegetables and pork, duck or chicken.
It is therefore a real pleasure to enjoy an exquisite menu after a long day of work or to have an aperitif while you dedicate yourself to doing what you like as a Digital Nomad. In this section I will present the typical dishes of the Island of Bali so you can choose what most appeals to you:
Nasi Goreng / Mie Goreng
These dishes are the best known and traditional of the island. Nasi Goreng is a dish of fried rice, cooked with sweet soy sauce (there is also a spicy version), usually accompanied by a fried egg, chicken and some satey, vegetable or prawn bread chips, next to it. It is so common and popular that you can enjoy this at any Warung on the island. There is an identical version of the Nasi Gereng called Mie Goreng, only that noodles are used in this second dish instead of the traditional rice.
Gado-Gado
This is another of the most common dishes of the island and is the quintessential salad if you prefer vegetables in your menu, it's composed of lightly boiled or steamed vegetables coated in a traditional peanut sauce; in some places it is accompanied with shrimp crackers and added spices, soy sauce, fish and lemon juice.
Saté or Satay
It is one of the favorite dishes of diners and is known for being very famous in the area. They are delicious chicken, fish or veal skewers served with an incredible peanut sauce. You can also find this delicacy in most fast food establishments and they are very cheap.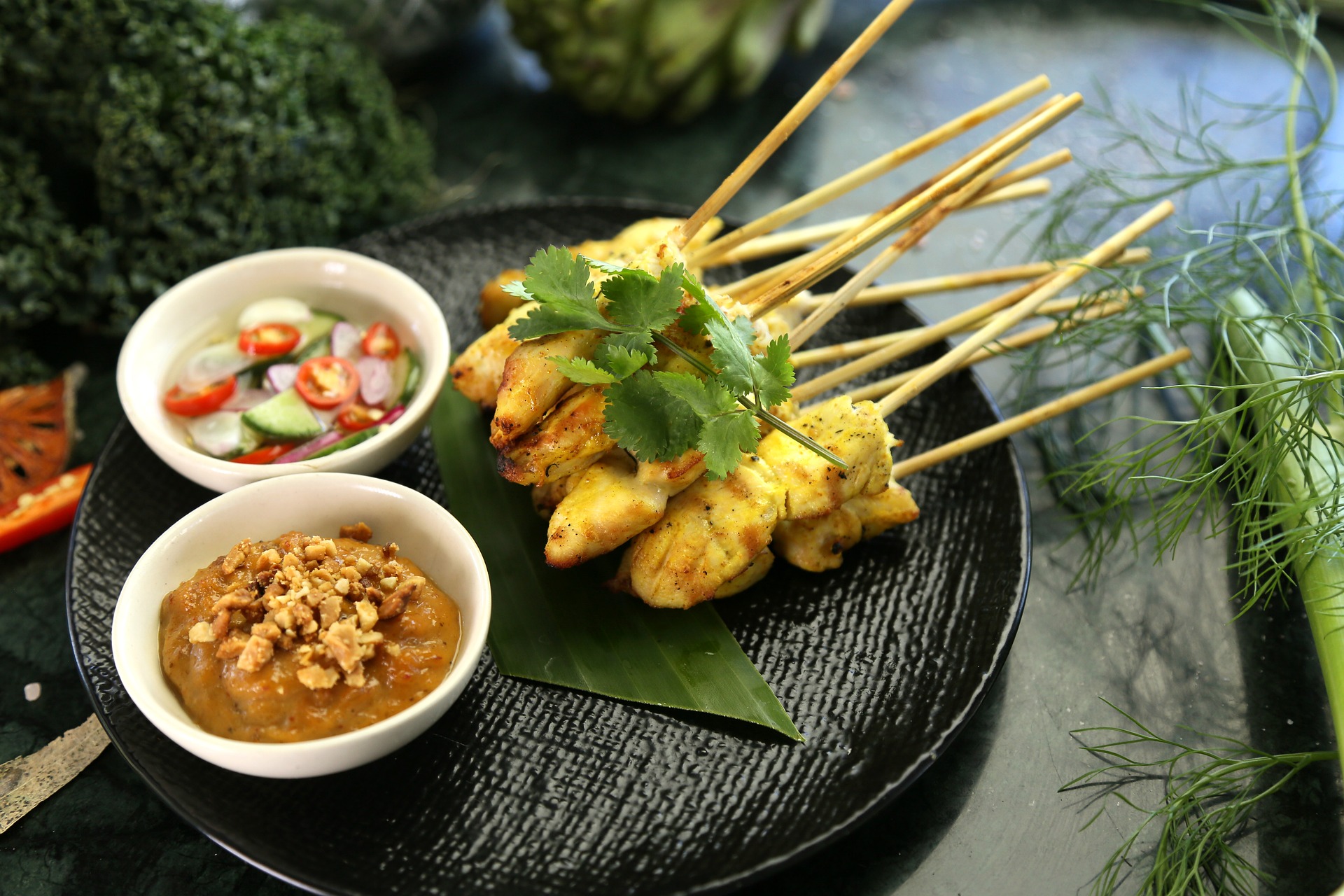 And a Diet Coke, please.
Babi Guling
A traditionalist dish based on pork. Diners usually enjoy this crispy toasted pig seasoned with spice paste and accompanied by a plate of rice, vegetables and usually a bowl of soup. Its high price makes it a typical dish for ceremonies, weddings and special occasions. The key to the dish is the traditional way of roasting the whole pork, grilled, which makes the meat tender and delicious.
Despite the fact that Indonesia is a Muslim country and pork is not allowed in its gastronomy, on the island of Bali they are more inclined towards the Hindu religion, which is why it is very common to find pigs among the ingredients of their dishes; and that is the case of Babi Guling.
Bakso
The bakso is a soup of noodles and small meatballs, fish or chicken with a compact and glutinous texture. Possibly this is one of the favorite dishes of the Indonesians.
Ice Teler
A fruit cocktail that is combined with different types of milk (such as condensed milk or coconut milk) and various leaves. Among its fruits is the avocado, jackfruit, coconut meat and cincau (which is a kind of gelatin that is obtained from the immersion of leaves in water), among other fruits, which are sweetened with a lot of sugar and a pinch of salt to liven up the mix of so many sweets.
Kopyor or Macapuno
A drink or dessert from the island of Bali in which a special type of coconut is liquefied and prepared with various spices to serve it with plenty of ice.
Tuak
A wine made from sake or rice which is very easy to get or prepare, Tuak is one of the most consumed in Bali, especially in the festivities of the island.
Pisang Goreng
A delicious dessert, although not very light: the Pisang Goreng is no more than fried banana, it is usually accompanied with vanilla ice cream.
What to do in Bali?
The island of the Gods is one of the few places in the world in which the natural beauty of the area has been intertwined with all that tourist boom that has emerged over the years. For this reason, taking into account the reasons for your visit to this island, Bali offers an immense variety of entertainment options (either holiday, extreme, night, romantic, etc.), and for those who are looking for cultural or spiritual enrichment.
Many summarize this extraordinary Eden as a paradise full of interesting places to visit, so if it is the first time you go you will surely be fascinated with everything you can do and see.
The island of Bali with its thousands of temples, its beautiful rice fields, its wild nature in the form of lakes, waterfalls and volcanoes, its beaches, together with the kindness of the people and its healthy and rich gastronomy, will make your days breeze past, and even more if you are a Digital Nomad and you have to balance your work timetable with the recreational one. For this reason, to reduce your list of things to do and places to visit, please take note of the following, most important sites to visit and things to do:
Visit the Luhur Uluwatu Temple
The Luhur Uluwatu temple is one of the main Hindu places of worship that for its location, located on a cliff 75 meters high in the south of the island, thousands of tourists who come to see its spectacular sunset over the Indian Ocean. The interior of the temple can only be seen from the outside since only monks can enter it. If you are indifferent to the presence of many monkeys or it simply does not concern you, then the enormous amount of these animals that live in the vicinity of the temple will not be a problem to "scare away" the bad influences.
Bike rides, motorcycles or walking
The area of Ubud is the most appropriate for backpacking and bicycle rides. Touring rural areas and rice fields while breathing fresh air is one of the best travel experiences. This activity will allow you to leave the usual tourist route found in magazines, web and television; instead, it will take you to witness the rural and unconventional environment that the island has with its customs and traditions characteristic of the Balinese people.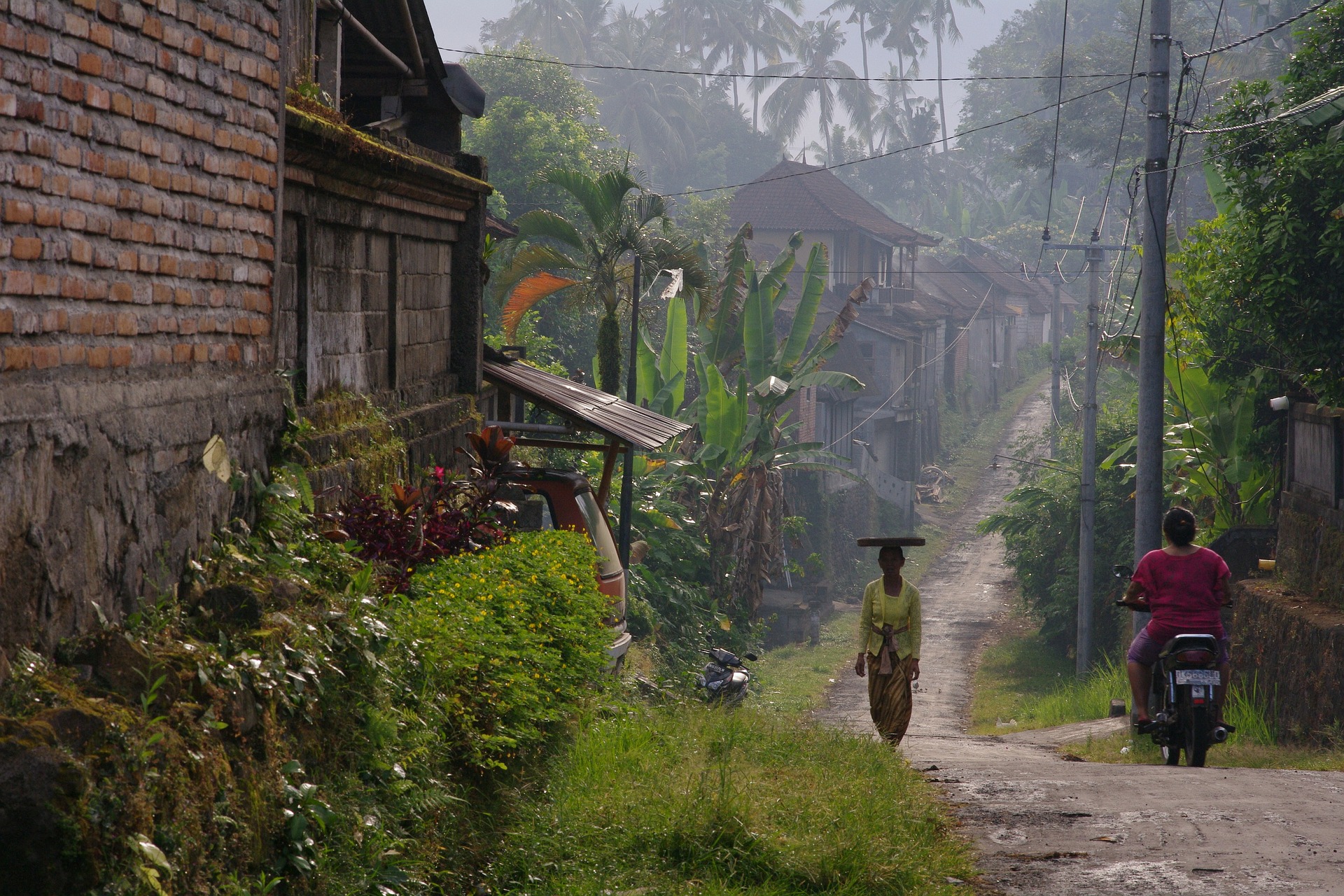 You can almost feel the peace.
Waterbom Bali
The Waterbom is a huge water park of over three hectares that covers countless attractions for the whole family. This park is located in Kuta, and is designed for you to have fun as soon as you've made your arrival. There are also shops, restaurants and places where massages are performed.
Volcanic giants
Bali is located in the famous Ring of Fire of the Pacific, an area with great volcanic and seismic activity, so it has several volcanoes. The Batur volcano is the tallest and most well-known on the island, and although it remains active, its last eruption was in 1964. Climbing the crater is one of the best hikes you can find in Bali; its panoramic views at sunrise or sunset of the valley and the Lake Batur are incredible and you can also see small smoke coming from the caldera of the volcano. Another volcano worth visiting is the Bratan, with a large caldera that contains several lakes; in one of these lakes is one of the most beautiful temples of Bali, the Pura Ulun Danu Bratan.
Finally, it is important to point out the Agung volcano, this is of great importance for the Balinese as they consider it the replica of Mount Meru, sacred by the Hindu religion.
Surfing and other water sports

Surfing is the star sport of Bali, as well as the reason why every year thousands of people move to the island. The best place to practice this sport is the beach of Kuta. So if you are a professional surfer this will be paradise, and even if you have never climbed a board, Bali is one of the world's paradises of surfing, so there is no shortage of people who can teach you how to ride waves.
Besides surfing, in Bali you can practice other water sports, both motor and traditional. Jet skis, diving courses or boat rides are common on the most touristic beaches.
Waterfalls
Bali, thanks to its rains that start from the end of October until April, becomes a natural spectacle full of vegetation, rivers and lakes. Among the beautiful waterfalls that you should visit, I can mention the Gitgit waterfall, the Sekumpul waterfall, the Goa Batu waterfall, the Aling Aling waterfall and the Nung Nung waterfall.
Temples, temples and more temples
Almost all the Balinese are Hindu, but they are not like those we know in India. In Bali they have their own Hinduism, with festivities, rituals and very interesting and different celebrations. The temples for the Balinese are a fundamental part of their life and their customs and there are more than 10,000 of them throughout Bali. Among the best known are: Pura Lempuyang Luhur, Pura Tanah Lot, Pura Besakih, Ulun Danu, Tirta Empul and Goa Lawah.
Ubud
This area is one of the most attractive that the island has because of its many places to visit; it is definitely a good mix of the traditional and the modern. Among the highlights, I can mention the Monkey Forest, the market, hiking trails by rice fields, traditional houses, massage and yoga centers, art galleries, craft centers and of course, spending hours doing some remote work like any good Digital Nomad in its cafes and restaurants full of charm enjoying its delicious cuisine.
Besides relaxing, Ubud is the ideal place to practice rafting. The Ayung and Telaga Waja rivers are the most important in the area.
Visit the rice fields
Located on slopes, the rice terraces are one of the idyllic postcards of the Island of the Gods, especially when they are at their best, full of water and with an intense green shade.
Around Ubud, there are several areas of very beautiful rice fields, although the famous ones are the rice fields of Tegallalang, the most beautiful of the island, and those of Jatiluwih surrounded by a great environment, the two best rice fields of Bali.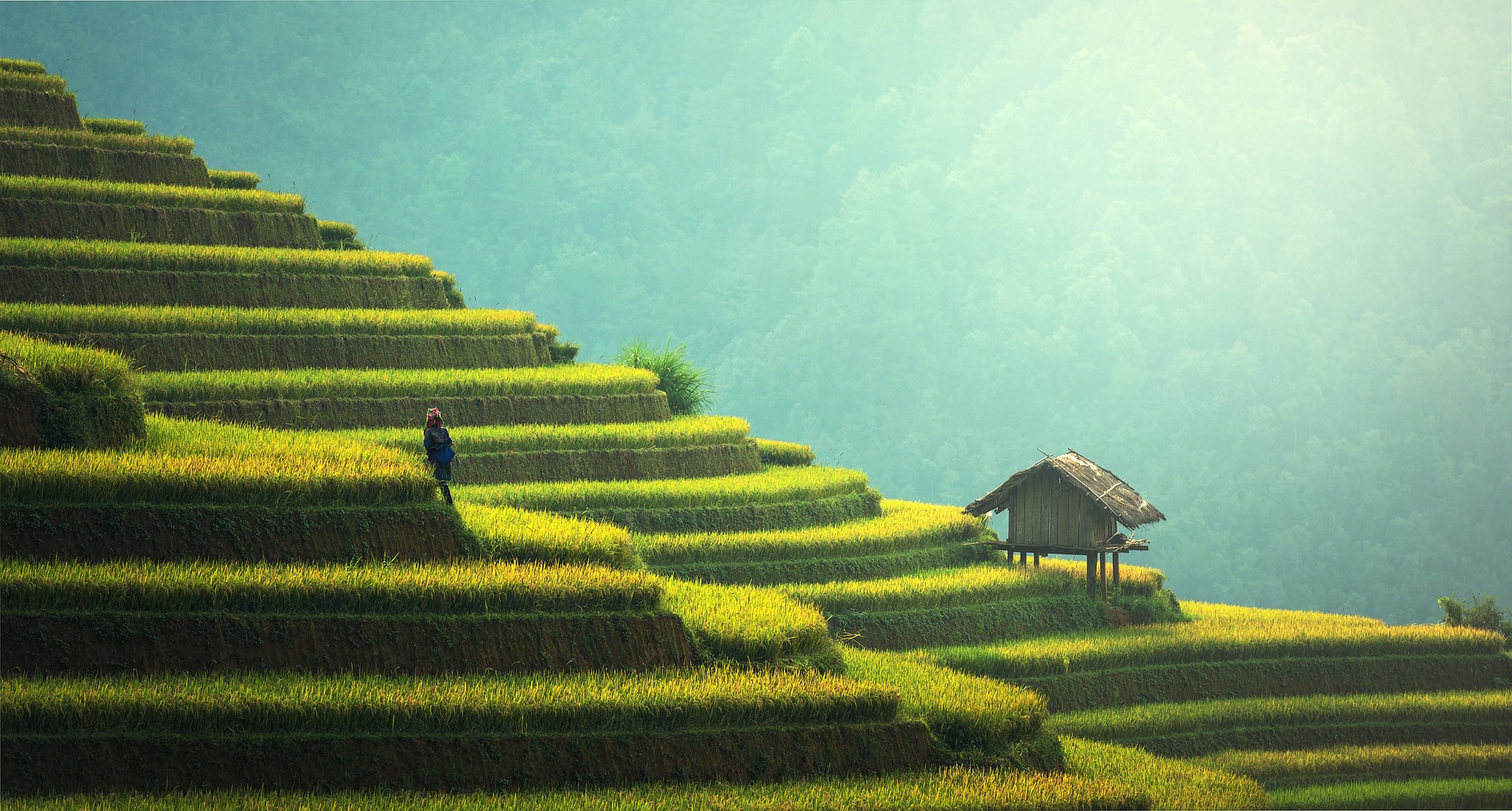 Take a moment to realize that this is real and that you can visit it.
Yoga, spas, massages and meditation
Bali has many places where you can take yoga classes, meditation and spa body treatments, facials, massages and classes aimed at healthy eating and energy. Be it for beginners or for yoga and healthy habits to be part of your life, Bali is the perfect place to invest at least one day on that balance between mind and spirit.
Traditional shows
The Barong Dance, the Fire Dance and the Ramayana Ballet are some of Bali's most famous shows. There are numerous places where they represent these traditional dances, especially in Ubud, but you can enjoy them without a doubt in the Tanah Lot and Uluwatu temples.
Living with elephants
In Bali you will have the opportunity to walk on the back of an elephant, bathe it or feed it, a unique experience. There are several places to carry out this activity, among which the Elephant Safari Park Lodge located in the area of Ubud, in which besides sharing with these incredible animals, it is possible to stay to be even closer to the pleasant pachyderms.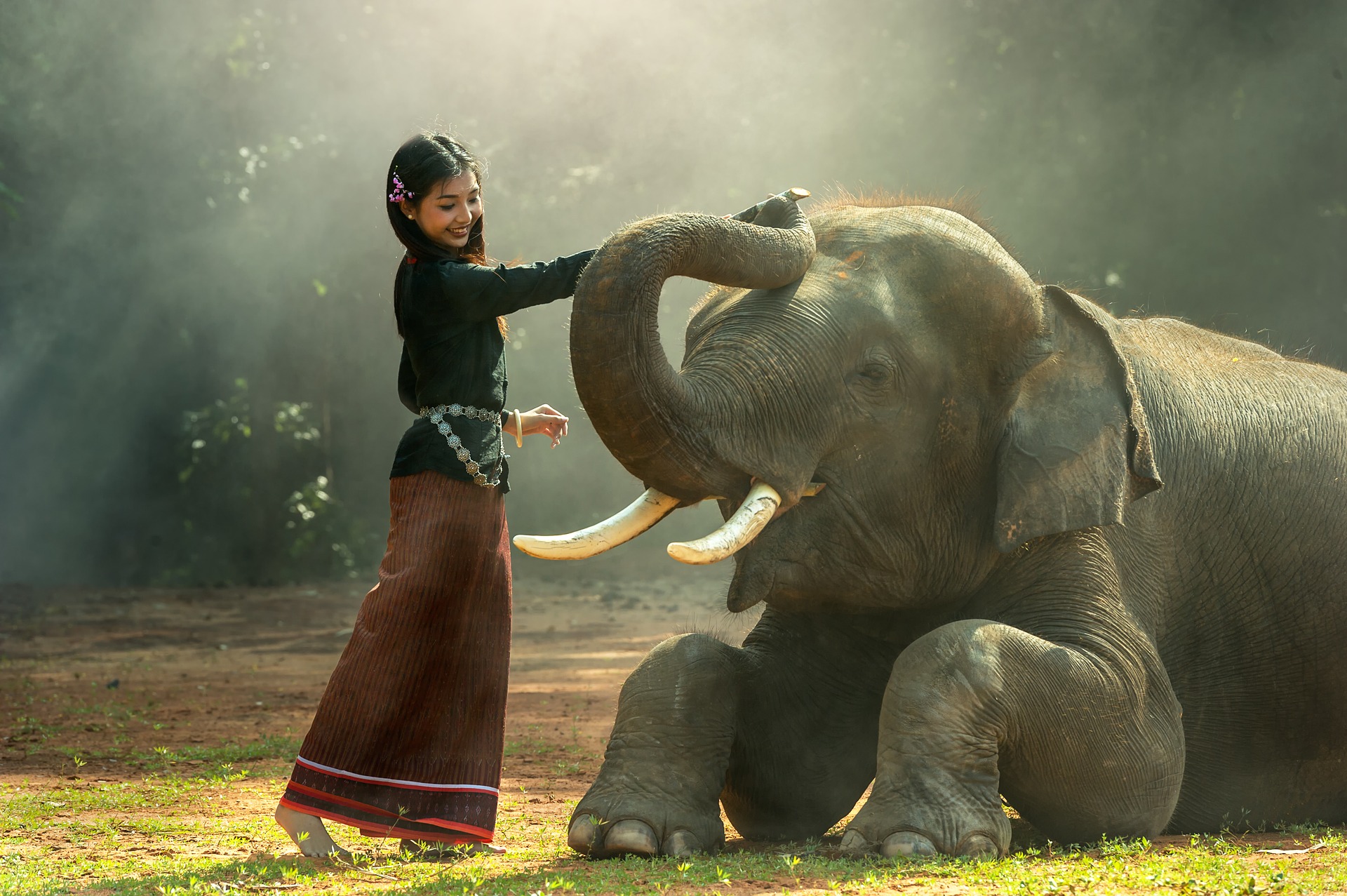 But keep your eyes open for people who mistreat their elephants. Tourism is nice, but hurting animals is not.
Go partying
If you want to party, then I recommend visiting Sky Garden Lounge, a huge multi-story palace that offers incredible views of Kuta. The club has well-known DJs, a café on the ground floor and shots with each snack that you're serve. If you're a fan of the indie rock and grunge music style, your place is Twice Bar. On the other hand, if you prefer to celebrate big with that beach touch that characterizes every island, we definitely recommend going to Bounty, a huge outdoor disco that has a sailboat shape.
Another recommended place is Velvet, a bar that turns into a disco after 10pm. The establishment has a large terrace that offers incredible sunsets.
Also, it is important to mention Jenja, which is a modern club and restaurant that is part of the TS Suites hotel. This has several levels where different types of music sound, such as soul, funk, R & B or disco style.
In the Seminyak area, I recommend going to Potato Head, a club and restaurant located on the beach with impressive decoration finishes. In addition, the place has a pool and sun loungers ideal for living one of the most glamorous parties in Bali.
Red Carpet Champagne Bar is another of the chic bars of the moment. The establishment offers more than 200 types of champagne that you can go tasting while you contemplate the horizon on top of a terrace. The club and restaurant Ku De Ta is more of the same, music and drinks facing the sea throughout the night.
If you like live music and you're specifically jazz, you certainly can not miss visiting the Ryoshi Seminyak House of Jazz, and here you will enjoy various performances under a traditional thatched roof three times for week.
On the other hand, in Ubud, the Jazz Café is a beautiful nightclub with live music that has a large garden full of coconut trees. And also for other types of music there are also places in Ubud, there is the famous Laughing Buddha, a small cafe where rock and blues music plays, and the Lebong Café, a live rock and reggae club that opens every night.
Do you want to work as a Digital Nomad in Bali?
Becoming a digital nomad is a decision that you might want to think through... however it is generally like deciding anything else in your life: basically just grabbing your bags and taking the trip.
This is where Bali becomes the heart of the matter, because this destination has much to give and for some years it has become the favorite setting for people who want to live and work remotely. Although I have already told you about the wonders that you can find on the Island of the Gods from the tourist point of view, now I will tell you a little about Bali from the perspective of a Digital Nomad.
Internet access is perhaps the most important aspect when working remotely. Although it does not lead the top positions, Bali has a very acceptable internet speed that will allow you to work without major inconveniences.
In Bali you can decide from where to work and choose between a modern café like the Machinery Café that has air conditioning, tranquility, good music, plugs and decent internet, or coworking places that are shared work spaces, where you can find the best Internet connection of the island, very nice and comfortable settings, and everything you need while your stay is prolonged in the place. There is also the possibility of working from the houses or villas where you stay and have access to the internet, so when choosing where to stay, you must confirm with the landlord about this important aspect. During your stay it is very convenient that you acquire a SIM card from a local operator, in this way you will ensure you have a connection on your Smartphone whenever you need it.
Another important aspect to consider if you travel is the cost of living in the place. Bali has a very low cost of living compared to other European, Oceanic or American nations. The rent of a room in a villa with a pool is around 300 USD per month (including all expenses), a meal costs about $4 USD in a warung and a good beer $1.5 USD. It is obvious that your expenses will be defined by the type of life you lead, that is if you decide to live without too many luxuries you can have a comfortable stay that allows you to know the beautiful places of the Island, but in a thrifty way.
As you may have noticed Bali is a place where there will be foreign tourists coming from all over the world and throughout the year, this increases the chances that you can speak in your language, or at least English, and that it is not necessary to have learn Indonesian, except in case you go to Bali to learn their language.
Although it is a fairly safe place, but as in any tourist place you have to be careful with small thefts of bags or purses, especially in the most renowned tourist areas, although this does not happen very often.
Do not trust public transport as it is almost non-existent on the island and the little that exists is inefficient and expensive. The traffic is chaotic and slow because there are many moto-taxis and cars that act as taxis, in addition to private cars. I recommend you download an app to order taxis such as GoJek and Grab (moto-taxi) and BlueBird (for taxi car) and leave early to your destination if you do not want to be late.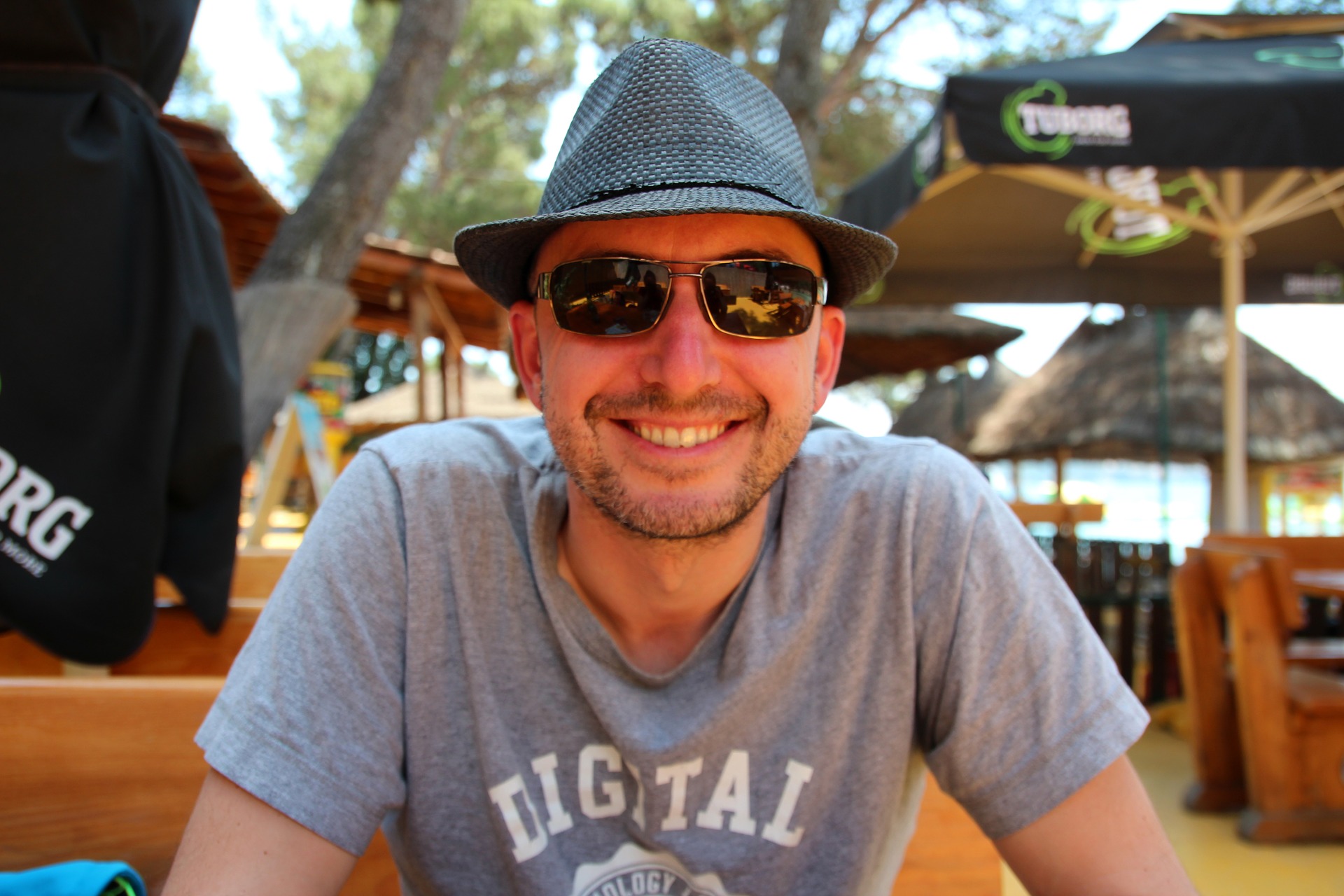 75% of male Digital Nomads in Bali may or may not look like this.
Tips for traveling to Bali and not dying in the attempt
1. Your passport must have a minimum validity of 6 months and 2 blank pages (at least) in order to travel to Bali.
2. If you want to stay more than 30 days on the island you should ask for a visa and not a temporary entry permit (which is free and will not allow you to extend your stay in the place).
3. Get the international driver's license.
4. Never take drugs. Indonesia does not take this issue lightly, drug use is punishable by jails (and even with the death penalty).

5. If you are a digital nomad and want to visit Bali do not think it is a cheap destination, especially if you want to visit many places and choose to stay in luxurious hotels and eat at expensive restaurants for several days on end. Now, if you do not mind getting settled in simple hotels, eat and sharing space with other travelers, then, probably, you will enjoy the island's economy a lot.
-----
Did you enjoy this Digital Nomad travel guide? We definitely hope you did!
Comment below and tell us what you liked the most, and DON'T FORGET TO SUBSCRIBE!